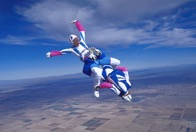 Maybe you have 2,000 skydives and you can't get excited about doing another 4-way today – you want to do something different. Maybe you have 100 skydives and the idea of further refining your belly-flying just to "crank points" leaves you less than thrilled. Maybe you got to the DZ before your buddies, and you want to do something by yourself on the first load. Or, maybe you've heard what a great time others have had at one of my Fun Flying Seminars, and you want to have some fun too! These are all good reasons to join the party and do some Fun Flying!
So, what on earth is Fun Flying…? Fun Flying is easier to describe in terms of what it is NOT than what it IS. It's almost anything you can imagine that's NOT highly structured, NOT competitive, and NOT primarily on your belly for the purpose of turning points. It includes noncompetitive aspects of freestyle, free flying, sit flying, knee flying, and it can be performed solo or with a partner or a small group. Performance is not the criteria for success – having fun is the goal, and letting yourself experiment and be spontaneous without seeking perfection is part of the formula for having fun. It may be as simple as trying a new body position by yourself, or it may be a coordinated 4-way double rodeo. If you come down smiling, then you've been fun flying!
So, if it's that vague, you may wonder, how do you figure out where to start? In this article, I'll give you specific suggestions for some new things you can try with your skydives to maximize your fun factor. These are simply ideas to get you started, and you'll soon see that the fun flying horizon is unlimited, and it's just waiting for you to explore on your own.