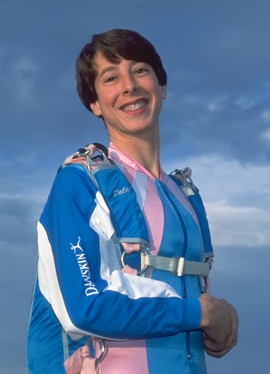 My early love of flying led me to soaring for a hobby, and aerospace engineering for my studies, but freestyle skydiving enthralled me like nothing else! I got my pilot's license when I was 18, and flew sailplanes until skydiving captivated me when I took my first jump at age 26. I was hooked right away! When the freestyle event emerged four years later, I was naturally drawn to it since it combined my love of flying with gymnastics. I was a gymnast in high school, and it's every gymnast's and dancer's dream, after all, to have those 60 seconds of 3-dimensional freedom.
Part of the thrill of freestyle was having the chance to help invent a new sport. I had to relearn how to perform all my gymnastics moves in the air, since the aerial environment was so different from being on the ground. I soon realized, however, that the freefall environment allowed me to do totally new moves that were impossible to do on the ground. The fun of creating new moves, and the adventure of discovering everything that was possible to do in the air kept me captivated with the sport for many years. I loved the opportunity to display the new moves I had been doing to the audiences and judges at competitions, and winning gold medals was icing on the cake!
Ultimately, the greatest reward from my freestyle came from an unexpected source—from the smiles and delight on people's faces when they saw my performances! Since I was always working to improve my performances, I looked at my own routines very critically and saw all the areas where I needed to improve. When others watched them, however, I realized from their reactions that they saw them very differently. They were seeing something so far beyond what they had been able to imagine that, to them, it was almost magical! People had simply never imagined that such moves—with such grace and elegance, they said—could ever be performed in the air! Seeing people's faces light up with this amazement was the biggest reward I could ask for.
Jim Huber from CNN said of me, "There are those who keep that dream of flying alive, and do something wonderfully creative about it." I feel truly grateful that I stumbled across a sport that enabled me to bring that kind of delight to other people—as a momentary reawakening of the human dream of flying. Finding my own satisfaction in the sport was one thing, but seeing that it was a pleasure I could bring to others made the whole journey infinitely more satisfying.